Hobart

is Tasmania's state capital and the second oldest city in Australia behind Sydney. It is the largest city in the state, the population of the Greater Hobart area being approximately 190,000. First settled in 1804, the early population consisted largely of convicts. Hobart's early life revolved very much around the waterfront, frequented by whalers and colonial traders.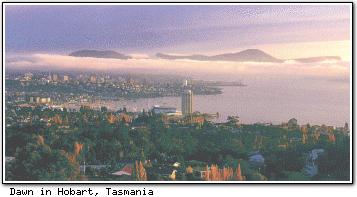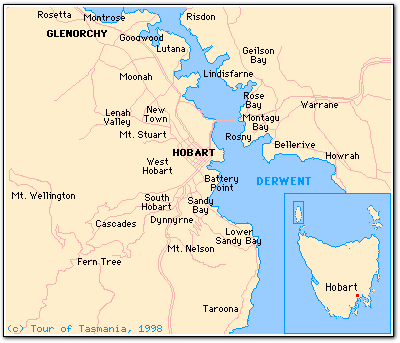 Historic landmarks
Simply wandering around the city centre on foot will allow visitors to take in the classic colonial sandstone architecture of buildings such as Parliament House. The Theatre Royal (1837), close to the city centre, is the oldest theatre still operating in Australia and has seen performances from the likes of Laurence Olivier and Gladys Moncrieff. Anglesea Barracks

(1814) is the oldest military establishment still used by the Army, and is open for public inspection.

Hobart's historic buildings, 1.91Mb QuickTime movie.
The criminal courts and penitentiary (1834), complete with execution yard, prove that one doesn't have to travel to Tasmania's geographic extremes to learn about the harsh penal system of yesteryear. St. David's Cathedral and Franklin Square (where you can play giant chess!) are two landmarks close to the centre of the city, whilst the suburb of Battery Point is a world of history on its own.
Attractions
A highlight of many visitor's stay in Hobart is a more recent attraction, the Wrest Point casino, Australia's first and a prominent feature of the Hobart skyline. Hobart's newest attraction is the Antarctic Adventure, on Salamanca Place, which has over fifty interactive exhibits dealing with Antarctica and Australia's presence there.
A must-see in Hobart, particularly for visiting children, is the Cat and Fiddle Arcade. This sheltered area off the Elizabeth Street Mall has an animated clock, which acts out the Cat and the Fiddle nursery rhyme on the hour. If Cat and Fiddle can be called the centre of Hobart's shopping district, then North Hobart can be called the gourmet's centre of activity. The restaurant strip and delicatessens cater to virtually every taste imaginable. Close by at New Town is the National Trust home, Runnymede

.

Cat and Fiddle Arcade, 1.77Mb QuickTime movie.
The Botanical Gardens and Government House (1855) are located to the northern end of the city. The Gardens are known world-wide for their exotic tree collection and fuschia displays, and also have a large collection of Tasmanian native plants.
Mt. Wellington, which rises to an elevation of 1271 metres above the city, is a short drive away. Compare the view of the city to that of old pictures at the Tasmanian Museum and Art Gallery, which also features convict relics and Aboriginal artifacts.
About the weather conditions applet
See also:

Related links:
© 1995-2010